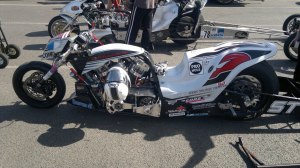 The racing season 2012 is now almost at the end. We still have one more test race in Tierp 28.9.-29.9. with Hammer 1 -bike and couple of bike presentations in different exhibitions with Hammer 2.
We are also, of course, having once again our traditional Season End -party with all of our sponsors and supporters. Everyone is welcome to join us! The date and the place confirmation comes later, so stay tuned!
The Season 2012 has been a great success for us! We achieved two out of our three ambitious goals we set in the beginning of the season.
SKULLRACING proudly presents the results after season 2012:
We are the Nordic Champion.
We came 3rd in European Championship -series.
We approved our personal best time to 6,61 sec and personal best speed to 352,94 kmh.
We won the Mosten Race Day.
But, as you all know, we didn't do this all by ourselves. A huge thanks goes also to our supporters, sponsors, other teams, friends and everyone who has helped us to make this season happened!!
THANK YOU!!